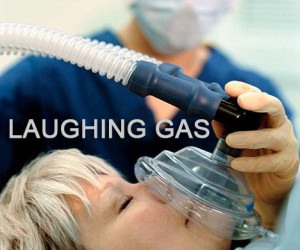 Nervousness both happens when you're excited for something or scared. Regardless, this feeling may cause adverse effects to your health. The most applicable example is dental anxiety, a fear that often happens when you are about to see your dentist for a dental procedure.
The great news is you can laugh fear now. All thanks to laughing gas.
Research shows, laughing gas fights anxiety problems. It consists of oxygen and nitrogen. It is colorless and comes with no particular odor or smell. Most dentists call this as nitrous oxide or N20. Clearly, laughing gas doesn't make you laugh. However, this alternative can make you laugh at fear and forget anxiety at a maximum height. No wonder why dentists use this agent to promote comfortable treatment.
Just like other oral sedation therapies, laughing gas advocates relaxation and calmness. This is advisable and fit for all types of patients, including elderly. Most cases, doctors use laughing gas along with other anti-anxiety agents. Therefore, dentists can apply laughing gas with other pain relievers and oral sedation materials, like local anesthesia.
When applied with laughing gas, you become drowsy or tired. However, the sedative effects can still leave you conscious throughout the treatment. This is why you are still conscious during the treatment. More often than not, dentists use laughing gas for minor dental procedures, including dental crown, dental bonding and wisdom teeth extraction procedure. Since laughing gas belongs to conscious sedation, the effects of sedative wear off quickly. Therefore, once you're through with your treatment, you can go back to your usual routines.
Nitrous oxide or laughing gas is actually safe to use. However, it always pays to consider professional 24 hour dentist
consultation first before taking one.
Recent research shows, laughing gas requires major discussion with your dentist. Your dentist will need to know more about your medical history before he prescribes you with laughing gas. The primary purpose of this is to prevent adverse reactions of this sedation. Individuals who aren't fit for laughing gas are those who have a history of chronic obstructive pulmonary disease, drug dependency and pregnancy.
If you are a good candidate for laughing gas, you can say goodbye now to dental anxiety. To learn more of this impressive sedation, contact a dentist. Your dentist will educate you about this treatment and its effects to you.