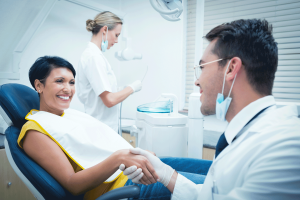 If you care so much about your teeth, you must start exercising good oral hygiene. The deed involves several strategies that can improve and maximize your dental health. Daily brushing is one good example. This is done on a daily basis and should be exercised thru the use of soft-bristled toothbrushes and fluoride-rich toothpaste.
Good oral hygiene is considered as preventive care. This can help you save money, reduce interactions on dental treatments and improve your oral health. However, brushing and flossing aren't enough to protect your teeth. That is why a lot of dental professionals advocate regular dental visits. This act completes your oral hygiene equation.
Regular dental checkups are done at least twice per annum. One of the procedures done is dental cleaning in which an on call dentist conducts inspection of your teeth and gums. The purpose is to clean your teeth thoroughly. Also, this helps figure whether your teeth are exposed to the risks of dental problems, such as periodontal disease and cavities. In typical cases, your dentist will execute dental x-rays. This type of examination will help your dentist examine your mouth, teeth, gums and even your jaw's movements. As a result for dental cleanings, your teeth are polished and clean.
How Can Regular Dental Office Visits Benefit You?
Regular dental visits can benefit you. Besides maintaining your dental health in good condition, this fights bacteria and dental problems. Bad bacteria are known to cause various problems, like gingivitis which is extremely dangerous especially to pregnant women. Dental visits also help you detect other non-dental conditions that have oral symptoms. Diabetes, stroke and heart problems are living proofs of this.
Regular dental consultation is among the most in-demand procedures in achieving wholesome mouth. Apart from identifying dental difficulties and general health conditions, like cavities and gum disease, this method can save you from future expenses of complicated dental procedures, like root canal treatments.
You must learn that regular dental office visits promote healthy smile and boosted confidence. If you'd like to have one, practice oral hygiene and visit your dentist now.